Next Stop, Bangkok
Posted on October 23, 2017
In Europe, all roads may lead to Rome, but in Southeast Asia, most air routes bring travelers to Bangkok. I hadn't realized this until earlier this year when we planned our Thailand-Bhutan-Cambodia trip. After checking flight schedules it quickly became apparent that we'd be pivoting through the "Big Mango" (as Bangkok is often called) several times in order to get where we wanted to go. I looked at city hotels, but then realized the train wouldn't get us to the airport in time for early morning departures, and with Bangkok's chronic congestion, taxis were out of the question. The obvious solution was to stay at an airport hotel and see city sights as time permitted.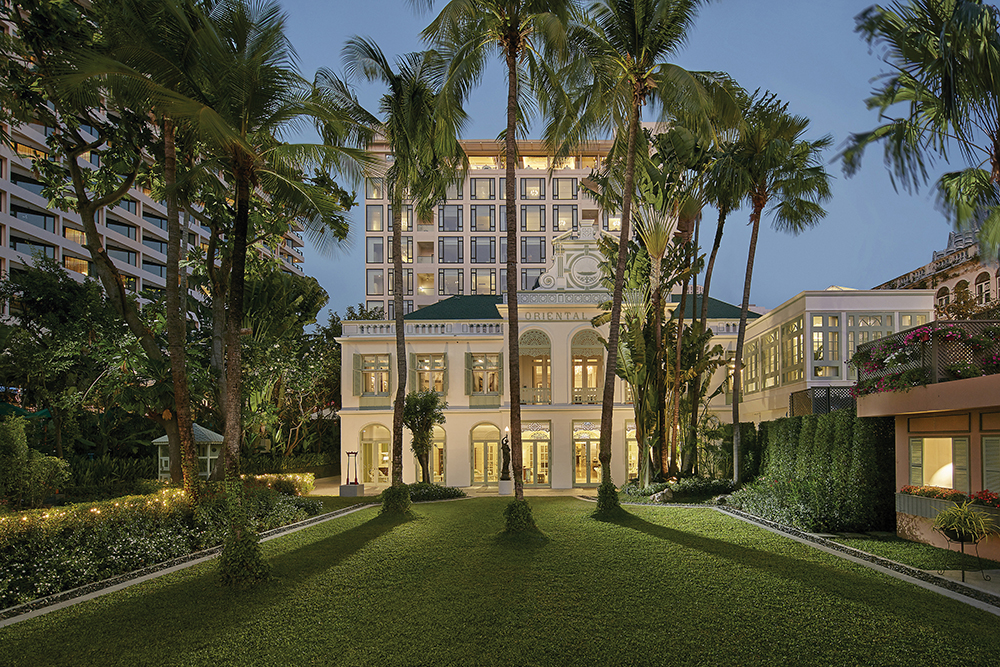 Mandarin Oriental Hotel
The beautiful, 600-room Novotel Bangkok Suvarnabhumi Airport Hotel is a five-minute walk from the terminal, but every time we came and went we opted for the free shuttles that operate 24/7. In addition to spacious lodging, the hotel offers a pool set in a tropical garden, a fitness center, a spa, and 24-hour dining. The concierge gave me a tutorial on using the elevated Airport Rail Link, Metro, and Skytrain to get into the city and walked me to an ATM where I withdrew colorful Thai Baht.
The pool at the Novotel Bangkok Suvarnabhumi Airport Hotel
Exploring Bangkok
We had two nights at the Novotel when we arrived from LAX before leaving for Bhutan. To best take advantage of the full day in between, I pre-arranged a private guided excursion through Context Travel. This Web-based travel company (contexttravel.com) connects travelers with scholars who have advanced degrees in their fields of study. These experts include historians, chefs, archeologists, and architects. Because I was interested in learning about Buddhism, they connected us to Dr. R. Jeremy Saul, who holds degrees from three top U.S. universities and now teaches religion at Bangkok's Mahidol University. In addition to religious studies, Context Travel's Bangkok docents specialize in food, architecture, and urban history.
Guests at Novotel Bangkok Suvarnabhumi Airport Hotel can easily catch early morning flights
Saul provided local insight on Thai culture as we cruised through canals and walked in various parts of town. The first Buddhist site we visited was the ancient Temple of the Golden Mount, located on the top of a hill. While I wasn't thrilled about the climb, I loved the panoramic view, which included the contrast of avant garde high rises and traditional temple structures. Unlike the Temple of the Emerald Buddha on the grounds of the touristy Grand Palace, the Golden Mount is a quiet place where monks and visitors stop to pause, reflect, and listen to wind chimes.
I also loved the Wat Suthat, one of the city's oldest temples, where we saw the largest bronze sitting Buddha in Bangkok. We were here as dusk turned to dark and local families came to worship. I'll never forget the intensely spiritual atmosphere created by their chanting, praying, and burning incense.
Indulging in Bangkok
Connecting between Bhutan and Cambodia, we found ourselves with a free afternoon, so we hired a long tail boat for a float along the Chao Phraya River and some of the adjacent canals. At the end of the trip, the driver dropped us off at the dock in front of the Mandarin Oriental Hotel.
Because Bangkok is criss-crossed by canals, it is sometimes known as "Venice of the East"
This beautiful property opened in 1876 and was the first luxury hotel in Thailand. I love old colonial hotels and this one, in particular, has a special place in my heart because I remember having afternoon tea here on my first visit to Bangkok. Today, much of the hotel is new, but the historic Authors' Wing continues to exude Old World charm. In the Authors' Lounge, the décor includes turn-of-the-century-style wicker furniture, and delicate finger sandwiches, freshly baked scones, and homemade jams are on the afternoon tea menu. The icing on the cake for this Anglophile? A framed photo of Prince Charles and Princess Diana resting on the grand piano.
The Authors' Wing at the Mandarin Oriental Hotel exudes Old World Charm
Bye Bye Bangkok
After three weeks in Asia, the day finally came when we weren't passing through Suvarnabhumi on our way to another exotic destination, but actually queuing up at one of the airport's 360 check-in counters to start the long trek home. Thanks to this modern airport and the nearby Novotel, we'd made every flight and seen a fair amount of the city. Each of our stays in the Big Mango had been short, but definitely sweet. Elizabeth Hansen
Novotel Bangkok Suvarnabhumi Airport Hotel: Photo Courtesy Novotel Bangkok Suvarnabhumi Airport Hotel; Authors' Wing: Photo Courtesy of Mandarin Oriental; All other Photography Courtesy of ADAMS / HANSEN STOCK PHOTOS
The post Next Stop, Bangkok appeared first on Ranch & Coast Magazine.